UK's largest range of Oak Skirting Boards - UK's Fastest Delivery - UK's Best Quality
Veneered Oak Skirting - 4.4m Lengths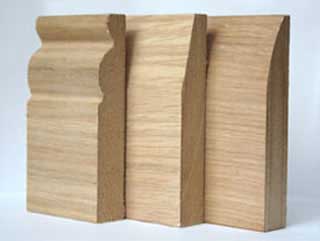 Veneered Oak Skirting Boards make a fairly inexpensive alternative to solid oak skirting boards.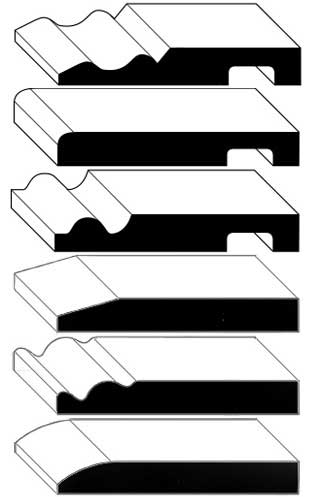 We have the following Oak Veneered Skirting Boards in stock, in the following range of profiles.
Available in 69mm (Usually used for architrave), 94mm, 119mm (Not available in pencil round), 144mm and 168mm (Ogee and Torus Only) heights.
We have the largest range of Veneered Oak Skirting Boards in the UK, with the largest stock and fastest delivery.
Premium 2.4 and 3m range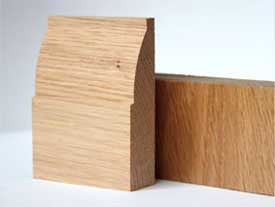 Solid Oak Skirting Boards are a premium high quality product for high end interiors. Oak is one of the most popular hardwoods in the UK, and Oak Skirting can be found in period properties through to modern interior design.
Our Solid Oak skirting boards come in any height, from 44mm architrave through to tall 220mm solid oak skirting boards. We stock Oak in 220mm high boards and we are one of the few manufacturers able to provide solid skirting in this height.
We can manufacture boards higher than 220mm by jointing two boards, which means we can literally any height board you desire.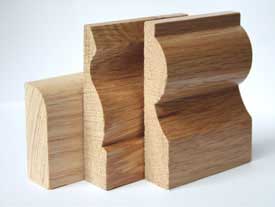 See below for our standard range of profiles - we can also manufacture oak skirting boards in bespoke profiles and mouldings to suit exactly the design you are after.
If your budget covers a hardwood skirting, beware of those selling it cheap. The quality of the end product is very much dependent on the quality of the raw materials used in the manufacture of your oak skirting boards. Low quality wood will twist and split, and will include both live and dead knots, which are essentially holes in your oak skirting. When you spend so much extra on Solid Oak Skirting, it would be a shame to buy a sub-par product.
Call us NOW!
International & Mobiles
01543 308 688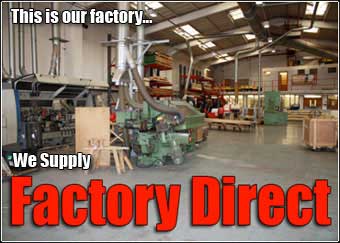 Items 1 to 15 of 862 total
Page:

1

Show per page
| | |
| --- | --- |
| View as: Grid List | Sort by |
Call for Pricing


0203 603 7603

Call for Pricing


0203 603 7603

Call for Pricing


0203 603 7603
Call for Pricing


0203 603 7603

Call for Pricing


0203 603 7603

Call for Pricing


0203 603 7603
Call for Pricing


0203 603 7603

Call for Pricing


0203 603 7603

Call for Pricing


0203 603 7603
Call for Pricing


0203 603 7603

Call for Pricing


0203 603 7603

Call for Pricing


0203 603 7603
Call for Pricing


0203 603 7603

Call for Pricing


0203 603 7603

Call for Pricing


0203 603 7603
Items 1 to 15 of 862 total
Page:

1

Show per page
| | |
| --- | --- |
| View as: Grid List | Sort by |